Shipping Policy at Goggles4u
THE SHIPPING POLICIES:
Home Shipping:
At Goggles4U - We have a habit of processing and delivering orders with a professional conduct. Our mission statement is not confined to discounted prescription eye wears as we ensure a smooth, hassle-free shopping experience from the comfort of your home. We communicate and update customers on the dispatched orders to assure items reach at the earliest. Explore the most comprehensible and transparent Shipping Policies at Goggles4U.

The Order Process:
Within 24-48 hours of receiving the order, we notify our production unit where industry-professionals check your order details and mark availability of your frames, lenses and delivery time.

Depending upon the order customization, the delivery time may vary as Goggles4U installs fresh lenses. Within 4-5 working days – we ship the orders that include progressive and bi-focal lenses

After passing the manufacturing process, the orders with Standard Shipping are sent out from our production units in Thailand and Pakistan to US and UK via USPS/ USPS Priority or Royal Mail Service. Then – we dispatch these fresh pair of eyeglasses to our customers.

Orders with Express Shipping will be shipped directly from our production to the customers.
Our Transit Timings: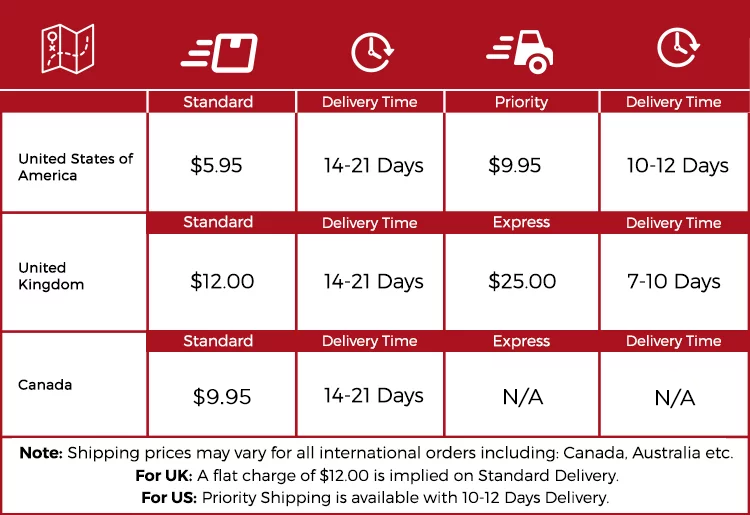 -
We offer "Standard" and "Express" shipping option to the following countries at checkout:

UK (Standard & Express) Both
Canada (Standard & Express) Both
France (Standard & Express) Both
Ireland (Standard & Express) Both
- We offer "Standard Shipping" to the following countries:
USA (Standard & Priority Shipping)

Israel (Standard only)

Malta (Standard only)

Puerto Rico (Standard only)
Note: Only "Express Shipping" will be offered to the countries that have been listed on our website
- In Express Shipping for Canada and UK, it takes 5-7 working days in transit whereas in other countries, it takes 10-12 days.
- Standard Shipping to US, UK and Canada is 12-14 Working Days and for other countries, it is 2-3 Weeks
The Shipping Methods:
- For Standard Shipping to US, Canada, France, Israel, Malta and Puerto Rico, we use USPS (United States Postal Services)
- For Standard Shipping to UK and Ireland, we use Royal Mail.
- Express Shipping is done via FedEx or DHL.
Not Sure What To Do?
Need to ask product related questions or want to inquire about your order? Connect to our Customer Support Department. We resolve issues via round the clock Live Chat and Phone Support.
Write to us at: [email protected]
Call Us: +1-888-972-9060