Photocromic Lenses - What's The Transitional Lens Effect?
Since everybody is talking about Photocromic Lenses and have no idea what they are, we at Goggles4u thought about telling you all there is to know about Photocromic Lenses. Photocromic Lenses or Transitional Lenses are a new technological advancement in lenses; basically they are the type of lenses that change color according to the light transition.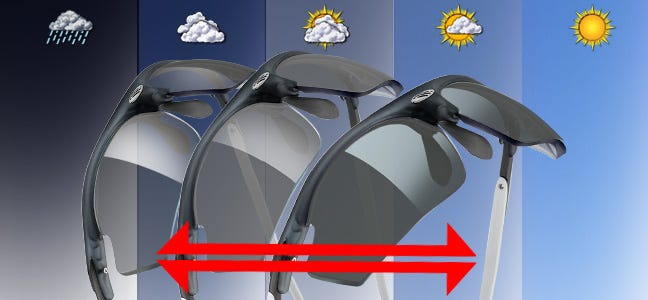 The best part about them is that you don't have to wear sunglasses; you can just use your normal eyeglasses as sunglasses, you can go outside while wearing them and they will change transition and become darker from the sunlight.
Transition lenses would automatically become darker when exposed to ultraviolet light of the sun and revert back to clear when indoors or at night. These lenses have really revolutionized the eyewear industry. They can also be called the 3rd generation for Lenses. With these Photocromic lenses, you don't need to be bothered by having two pairs of eyewear glasses. These Photocromic lenses easily adjust lighting conditions and you also have an option to choose the color type for your lenses as per your preference. The transitional Lenses offered at Goggles4u provide 100% protection from Ultra Violet Rays of the sun. They are fully compatible with Anti-Reflective coatings and are available with any lightweight lens material or design that you desire. They are also available in Bifocal and Progressive Lens too. Here at Goggles4u, we take care of all your vision needs.