"Cult of Personality" - John Lennon
"Cult of Personality"
"If someone thinks that love and peace is a cliché that must have been left behind in the Sixties, that's his problem. Love and peace are eternal." John Lennon These words remind us of the great star of Music world "John Lennon"
There is a huge demand for John Lennon Style glasses and we are not surprised with this. John Lennon the Rockstar of "Beatles" made a fashion statement by his unique small round glasses. After number of decades these glasses are still in fashion since day one.
It was an era of mid 60's when a unique and creative style of glasses hit the market and became immortal. These glasses are now known as John Lennon Glasses. The other popular name for John Lennon Glasses is "teashade" glasses and they are usually found in mirror tinting or very dark tinted prescription sunglasses.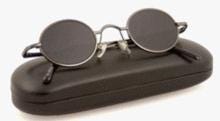 Whenever someone refers to John Lennon Glasses, we get an image in our mind that is of small round glasses with thin wire frames. As it is mentioned above, usually these glasses are found with dark tinted lenses and the style is cult in itself. Now they are also coming in multi-tinted colors and in some cases they are specially designed to generating hallucinations aesthetic canvasses for the eyes.
The waves of John Lennon Glasses not just strike ordinary people; many well-known personalities such as Ozzy Osburne also adopted John Lennon Glasses in their own customized way. In past 2 decades many of the celebrities joined the club of John Lennon Glasses and it makes them the talk of the town as well. Some of the well-known names are Roger Daltrey, Liam Gallagher, Mick Jagger and now even the pop sensation Lady Gaga also found wearing John Lennon Style frames in her publicity shots.
The style of teashade glasses is not restricted to music industry; it is also well followed in movies and television programs. The Matrix star Seraph wore these glasses in Matrix movie series and is not for adults only, it is also a source of attraction for kids as well, after Daniel Radcliffe wore these glasses in J.K Rowling's hit series of films "Harry Potter"
Sometimes some great style gets popular and become cult. Same is the case with John Lennon Style frames. From 1960's to the date it is among one of the most popular style. It will not be suitable for daily usage of glasses as the lens area is very small but for casual use or as a second pair, nothing is more perfect than John Lennon Glasses.
Check out our amazing collection of John Lennon (Round) Glasses HERE