How To Order Glasses Online Want a new pair of glasses? Why not buy glasses online at Goggles4u. The question you would ask is why buy glasses online at Goggles4u. Well to simply put it is because we sell all the latest trendy hip styles of glasses online at the lowest prices that you can imagine.

The trend of buying eyewear online is slowly kicking in. It's becoming more and more imperative to buy glasses online. The glasses being offered online are at great prices, you'll get all the help and guidance along the way while processing your order and you can select from a wide range of designer frames which any normal retailer outlet doesn't offer.
Buying glasses online is becoming so popular that a number of websites have opted for it. It's even more consumer friendly and with just one click of a button. You can even try out the V-Try virtual application to see that the eyewear frame that you have selected does look good on you or not by simply uploading a picture on the website and navigating the frames to fit on your face. You can select from vintage, browline, cat-eye, retro, classic, or the round shape John Lennon style.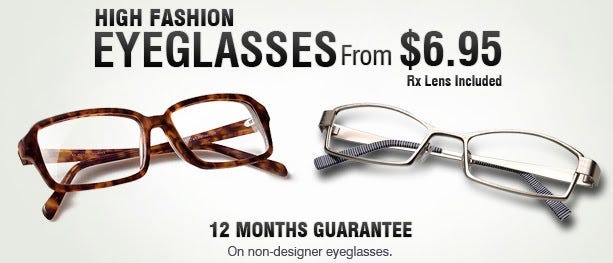 Buying glasses online at Goggles4u is not just your average retail website for eyewear glasses. Before buying a $400 simple eyewear glasses frame, you might want to consider our website for the latest trending styles in eyewear frames.
Our ordering guide does make sure that you have all the necessary information and guidance to help you out in ordering just the perfect frames and lenses for you. Each order that we receive is highly reviewed and evaluated by our team of lens specialists to ensure that your lens selection is perfect. Our 24/7 Customer Support Team is always available to answer your every query or problem that you may have.
The two main things you should really focus on are the frames and lenses. To buy a pair of prescription Eyeglasses from Goggles4u is a simple 4 step process:
Select a frame

Choose the right fit and the right size for your eyewear.

Select the Right Lenses for You

Checkout
Select A Frame:
You can simply browse through our huge collection of eyewear frames. You can easily choose the style of frame that appeals most to you. You can also select the type of material (Metal
,
Plastic
or
Titanium
) that you would prefer with the design of frame (
Full frame
,
Half-Rim frame
or
Rimless frame
) that you want.
You also have options to choose the shape of glasses you fancy, for example:
| | | |
| --- | --- | --- |
| Aviators | Retro/Browline | Rectangular |
| | | |
You can easily find your preference from our frame search function, once you have decided on the particular frames that you want, you can then simply proceed further to process your order.
Choosing the right fit and the right size for your eyewear
Eyewear glasses are one particular accessory that just fits without making any extra effort for adjustments. Choosing just the right frame for you and getting the best fit is all about selecting the right frame style and the design of the frame that fit your face perfectly according to your face texture.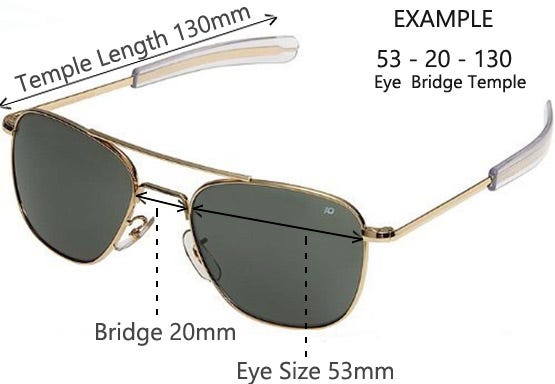 You can find the accurate size by checking it from your old frame or you can simply measure it with the help of a ruler. You can find your frame's size by looking inside of your old frame on the arm or the bridge on the frame.
The lens width or the eye width is the width of the lens (in mm). The bridge size is the width of the nose bridge and the temple is the length of each arm.
You can also check our EYEGLASSES MEASURING GUIDE to know further about the measurements for your frame.
Select the Right Lenses for You
Selecting the right lenses for you can be easily done if you know your prescription information and the type of lenses you want. According to your preference and vision requirement, you can either go for distance lens, reading lens, bifocal or progressive lens.
You can also select the type of lens you want, whether you want a polycarbonate, high-index, mineral glass, photocromic, middle-index, ultra thin or transition lens.
You can also tell us if you want Anti Reflective Premium AR Coating in your lens or not.
After you have provided the details regarding your preference for lens, you would then be required to fill in details regarding the power of the lens for left and right eye. You would need to provide details regarding Sphere, Cylinder, Axis, ADD and PD. You can also upload your prescription details that you have from your optician.
Here is a Rough Guide That You May Find Useful.
| | |
| --- | --- |
| 1.57 Index Lenses (With and Without Coatings) | 1.59 Index Polycarbonate Lenses |
| Sphere: Plano to -10.00 | Sphere: Plano to -6.00 |
| Cylinder: -0.25 to -4.00 | Cylinder: -0.25 to -2.00 |
| | | |
| --- | --- | --- |
| 1.61 Index Lenses | 1.71 Index Lenses (Mineral Glass) | 1.67 Index lenses |
| Sphere: -3.00 to -10.00 | Prescriptions with value over -10.00 | Sphere: -4.00 to -10.00 |
| Cylinder: -0.25 to -4.00 | | Cylinder: -0.25 to -4.00 |
For plus powers, it is recommended that you have 1.56, 1.57 or 1.59 power lens. It also reduces magnification of your eyes.
Checkout
With the help of our Ordering Guide and Eyeglasses Measuring Guide, the selection for your frames and lenses has been made very simple for your ease. With our Wizard Checkout process, you can enter your prescription and move step-by-step for your lens selection process. You can evaluate all the available options and prices for each lens and choose for yourself and simply checkout.
If you need any help or guidance regarding your selection, you can always call our 24/7 customer care support to ask for any query.