Thinking of taking an off from your hectic routine? It's time to wait for the president's day holiday, giving us the much-anticipated long-weekend especially to workers and salaried people in the U.S. As much as it's a blessing to top up our leisure time even if it comes once in a blue moon, we should also look forward to the best president's day prescription eyeglasses sales, soon to hit the online stores with Goggles4U in particular.
But wait! Let's understand the true importance of the best president's day sale and how it started over the course of history with its significance growing rapidly until today. Here's our take on the president's day sale's nationwide recognition and the history lessons that it preserves for people.
THE STARTING OF PRESIDENT'S DAY SALE
This day went through and through the government approvals before becoming a federal holiday. Since it falls around the mid of February, the president's day depicts the "death" anniversary of 2 iconic presidents: Abraham Lincoln and George Washington but it ultimately sheds light on all the dedication, zeal, and hard work of the American presidents who graced the timeline. The term "President's Day" caught attention in the 1980s and ever since it has become an annual day-off and a big retail game-changer for online shoppers in the United States.
GET EXCLUSIVE PRESIDENT'S DAY EYEGLASSES DEALS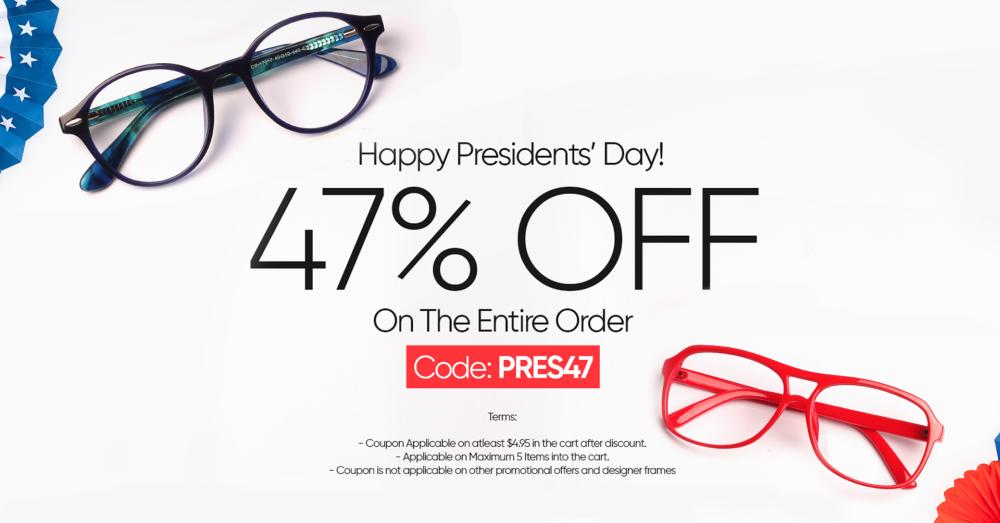 What's the best way to celebrate president's day? We believe in looking back at history and improving your vision. It also means aligning yourself to the best president's day sales for prescription eyeglasses for an improved sight!
That's right! This holiday - we're making sure that you get to take away the mightiest discounts on the best discount eyeglasses online. Avail "Percentage" on your next pair of prescription eyeglasses and celebrate the spirit of president's day sales to the fullest at Goggles4U!