Global Perspective: The Main Takeaways From The National Eye Exam Month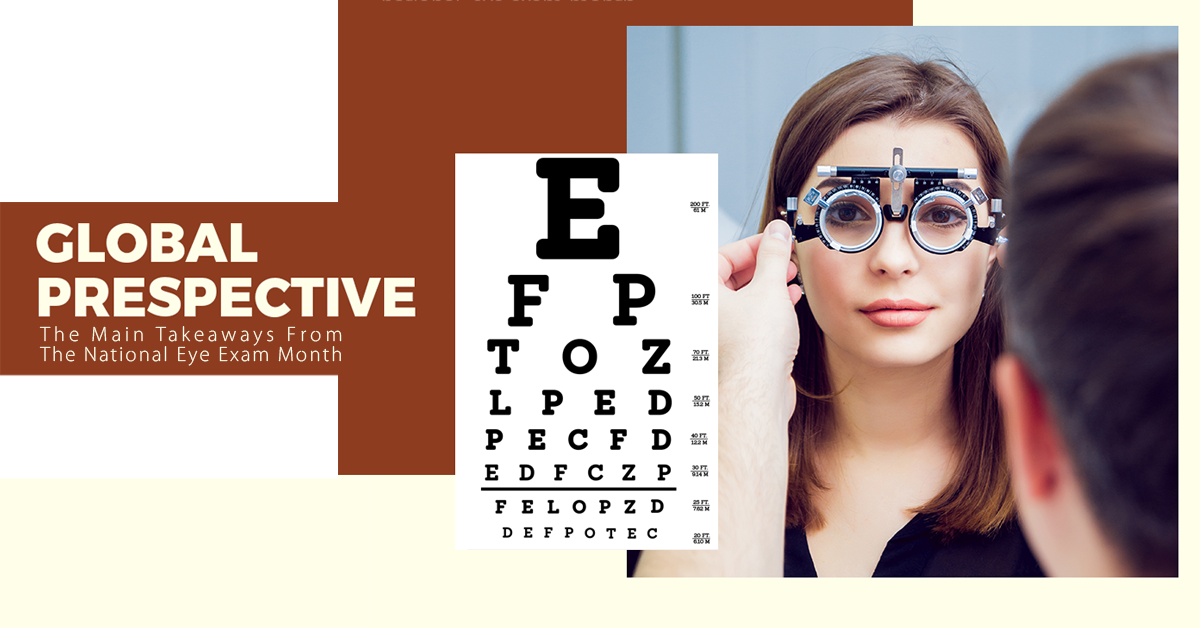 It is greatly noted that the "Prevention is better than cure" which looks at the pre-possibility of eradicating the problem instead of developing it over time and then finding its antidote, accordingly. It's as simple as "National Eye Exam Month" as it shares a global awareness of the digital world is relentlessly taking away the efficiency of your sight. Be it kids, adults or the youngsters, this event embraces the downing of vision for all age groups with special attention for oldies for whom the possibility of a sinking sight is twice as much. Explore the main takeaways and eye-opening analysis pertaining to this month.
National Eye Exam Month - Global Vision Analysis:
1) According to Vision Council America, there are 12.2 million Americans that require vision correction.

2) Around 50% of parents have never considered taking their children to the optometrist when they are 12.

3) In August, under the sophistication of "National Eye Exam Month", appearing in an eye test is free: individuals with 65 years or plus.

4) In 1989, Sears Opticals started "National Eye Exam Month" and brought all optometrists into practicing the 30-day vision awareness with a goal to fix the diminishing sights.

National Eye Exam Month - The Best Time For An Eye Test:
Although, the national eye exam month doesn't label or portray everyone as having a weak vision. However, eye syndromes may surface in bits and pieces that gradually lead to vision problems. Here's why it's the best time for an eye test if you have the following symptoms.

1) STOP YOUR HEADACHES:
Already bearing the brunt of random headaches that begin on their own? It seems the optometrist has a solution. Stop such headaches and make life more worth living and focused.
2) UPDATE YOUR PRESCRIPTION:
It's a thing with the eyes that their efficiency may change over time. It's time to update your prescription and get vision correction. Book your appointment with an optometrist and recalibrate the prescription. It's possible that you're using the wrong prescription etc.
3) CHECK FOR SYMPTOMS:
It's proven that the weakening of the vision leaves little or no symptoms at first. However, the general indicators may include black dots insight, eye-watering, blurriness, redness, and burning. Look out for symptoms and be a part of national eye exam month.
National Eye Exam Month - The Mega Contribution By Goggles4U:
Being considerate about the sharply growing prices of the vision-saving commodity, Goggles4U understands and acknowledges the phenomena of a global shift in vision quality. Now - the commodity of the glasses is required more than ever to fix the diminishing sight. Knowing that individuals are at serious risk if their budget doesn't match the price of well-engineered glasses, Goggles4U is contributing to this noble cause with glasses starting from $6.95. That's not it! With Goggles4U, get ready to experience the biggest catalog of frame styles online with up to 1600+ frames to buy from. Be a part of National Eye Exam Month and curtail the risk of getting involved with vision problems.