Bifocal Glasses | The 2-Way Vision For 1 Stable Sight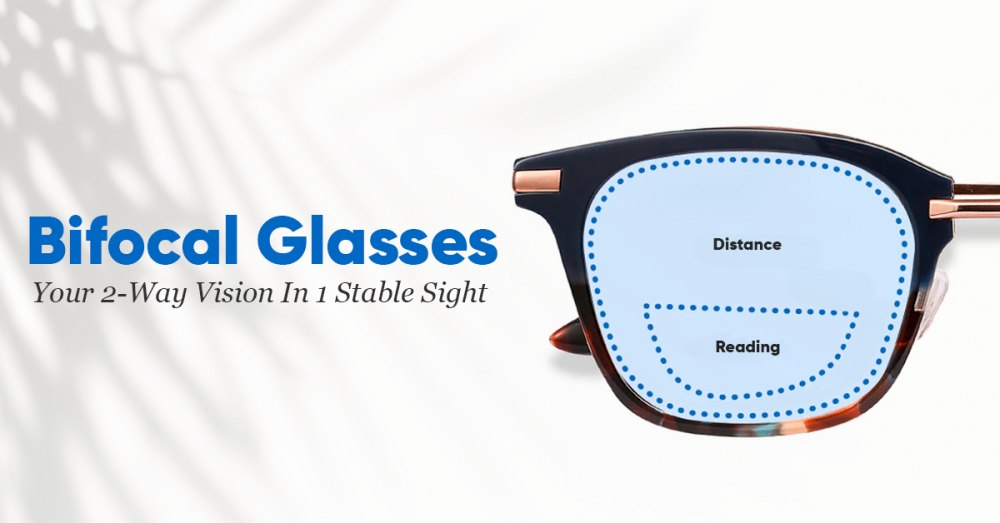 Bifocal lenses or bifocal glasses online have revolutionized the eyewear paradigm by introducing a special type of lens that projects a clear vision for near and farsightedness. Gone are the days when you had to dangle with two pairs for varying sights. Instead, the bifocal spectacles are engineered to cover the 2-way vision which makes it effortless to see around with just a single pair doing the magic. The upper part of bifocal lenses is for viewing objects from far away while the bottom one caters to reading.

Today - bifocal glasses are commonly recommended to people suffering from presbyopia, a naturally occurring condition that abandons your sight from grasping clarity at multiple distances. It is said that presbyopia is likely to haunt people aged 40+ and becomes a major eye problem if it remains untreated or undiagnosed. The bifocal lenses embody the power of 2 different perceptions into a single lens with the choice of purchasing "lined" (dividing the near and far range with a visible line) and "free form" (without a visible line for vision range). We also have the liberty of integrating bifocal lenses into any frame style of our choice to embrace the resolve of 2 different vision ranges.
+-
5 Major Indicators That Mark The Need For Bifocal Glasses
Although, the quality of the eyesight inspects the need of shifting to the bifocal glasses. Yet, there are other prime indicators that mark an ascend to the bifocal lenses from your ordinary eyewear. Explore the 5 major indicators that ensure the need for having bifocal glasses for your vision.
1) If you suffer from blurry words at the time of reading with a history of having an eye strain.


2) If you lose the potential of viewing objects from a considerable distance (over-the-counter restaurant menus, wall-clock at the public square, etc)


3) If you've been diagnosed with astigmatism in your late 30's.


4) If you're young and potentially suffering from myopia (a common condition where objects positioned at a distance fail to appear as clear and accurate)
5) If you indulge yourself in reading newspapers and going on long-distance drives.
Frequently Asked Questions - Bifocal Glasses Online!
How many types of bifocal lenses are there?
There are more than 4 types of bifocal lenses available that can be tailored as per your requirements. You can tweak the "reading" portion by expanding its size or empower the majority part of the lenses with the "distance" range. We suggest following the prescription and order your bifocal glasses with a verified approach.
Can we turn all frame styles into bifocal glasses?
Yes. Due to its customized nature, we can convert all frame styles into bifocal glasses without experiencing the lack of prescription power.
It's simple. Select the frame along with the frame color. Press "Select Lenses" and enter your prescription. After this, simply select the " Bifocal Lenses" option from the chart provided on the screen. You can talk to our vision consultant to further customize your bifocal lenses as per your vision range.
What is the price of bifocal lenses?
It starts at $19.95 with a lined (D shape) and free-form lens pattern. Order your bifocal glasses today and get dual vision accuracy.
Can we add other lens coatings to the bifocal lenses?
You can choose any lens coatings except for Polarized lens coatings. Visit Goggles4U.