Funky Eyeglasses - Goggles4u.com



Featuring cool and different eyeglasses with exceptional temple designs to intrigue fashion and style for guys and gals. These funky eyeglasses come in retro and toned frames which look extremely elegant.

BUY FUNKY EYEGLASSES
These eyeglasses also offer daring futuristic looks with extra detailing design to make you like a fashion icon in your group of friends. You would find attractive pairs of funky eyeglasses by designer brands such as Nicole Miller, Inspire, Cavallo, Ed Hardy, Gianni Po, and Subarashi.
Make reading fun and funky for your choice of style by checking out our funky eyeglasses collection for your taste in eyewear fashion. These funky eyeglasses would just be the finishing touch to your personality. These bold, chic and cool designs are sure to capture any eye glimpse for a flavor in fashion and style appeal.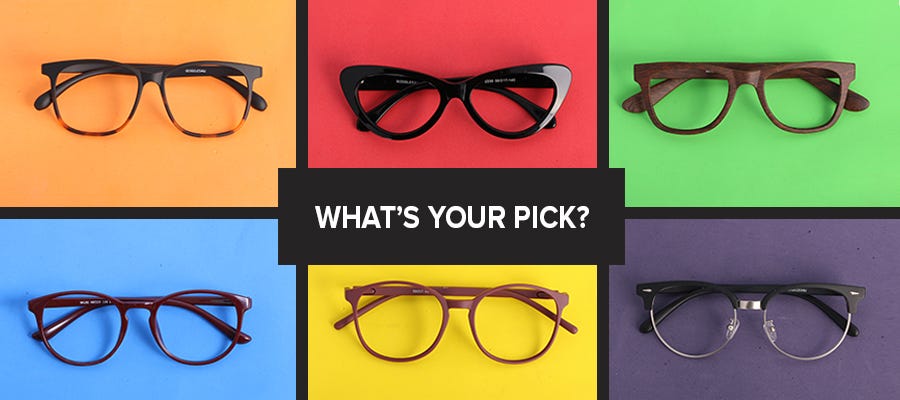 Order Funky Eyeglasses at Goggles4u to express your creative self at half the price you give at any ordinary store. With amazing colorful detailing to keep you looking cool for the modern hipster culture. These Funky Eyeglasses will keep your eyes safe with prescriptions to fit your individual style and budget. These Eyeglasses will surely blow you away as You won't find a better deal anywhere else!
GET THE FUNKY EYEGLASSES AT GOGGLES4U
Buy Retro Style Frames in all shapes ideal for all fashion-loving people at Goggles4U. They are a perfect choice for oval, oblong or heart-shaped faces. These are full-rim frames in a charming mix of Black, Green, and Pink colors with silver temples, giving a vigorous appeal.

INSPIRE Retro Eyeglasses by Goggles4u is a TR90 frame suitable for a wide range of lenses. Its unique dark grey color contrast frame makes it a unique choice for people with fashion choices. It is a modern eyewear frame for fashion-conscious people.
This Retro style funky frame in round shape is ideal for people who love to go to parties. Although it is suitable for all occasions, this frame is a perfect choice for people to match with most clothing styles or attire.
With simplicity and elegant features, this particular Inspire eyeglasses frame defines it all. With shiny tortoise color with golden temples, this pair of eyeglasses is perfect for your party wear to match up with your black suiting or fashion apparel.