Eyeglasses Measurements - How to determine the right size?

Buying the accurate size of an eyeglass frame is a technical issue for those who are quite fresh in it for those who are facing this for the first time in their life. When the topic arrives to buying a prescription eyeglass from any online store such as Goggles4u.com, which is amongst the top 5 highly-rates companies, serving their consumers for a long time, we will guide you through the whole process effortlessly and expediently.
Since we know that buying eyeglasses is not something that we do on a regular basis, so it must be done perfectly, to get relieve for a long time. You must get what you've been exactly looking for without any struggle.
The Precise Frame Measurement:
It is absolutely essential that you are fully aware of your frame size when looking an eyeglass wear on online deals as you might not get 100% accuracy if you haven't provided the right pieces of information. Let us guide you via image details, so you can have an idea for your next or first-time frame's measurements, so you get what your eyes need.

We will now guide you to purchase the right spectacle for yourself either you have been purchasing for a long time but feel unsure about the size, or you are a first time buyer and have no knowledge regarding this stuff.
Choose The Size of The Frame Wisely:


The most fundamental rule when the matter comes to choosing the right size of your frame is that neither it should be too small or too large when you put it on your face. A frame that looks big on you would be also heavier and you will feel uncomfortable.

One more disadvantage of such big-sized frames is that they make your eyes look smaller than usual. In order to check whether you are wearing the correct sized frame, make sure that you should not be able to look out of the bottom or top and from the sides of the frames without looking through that area. Also, the lenses should shield around 80 to 90% of the area of your vision.
The Distance Between The Eyes And The Width of The Nose Bridge:
Nose Bridge is an essential element because even though the frame looks exceptionally attractive, it also assists someone to see clearer & better. The precise distance between both lenses aids decrease stress on the eyes, helps from slipping down the nose area, and does not smear much stress on the inner side of the eye.

These elements are really imperative since such glasses that don't fit suitably often lead to numerous issues such as marks on around the nose and eyes and also produces headaches and stress in your eyes.
The Importance of Aligning Your Glasses Correctly:
One more chief concern while opting for the correct frames is the absolute center alignment, that helps someone see accurately. It means that the lenses are exactly in front of your eyes, which assists you to see clearly, with no pressure on your eyes areas.

Well, this is really factual because heavy-weight frames become the reasons of headaches or strain in your eyes. The chances are greater that frames would slip from the nose if the weight is heavier. But we are not saying that you should just buy a lighter plastic frame since they are light-weight. We carry frames made of titanium which are even lighter yet stronger when matched to other sorts of frames.
Buy Top-Quality Titanium Frames Here
Compare The Outcome With Your Frame & Measure Yourself:
The stress-free method if you already own a pair of frames that fits you 100% perfectly since you've been wearing it; check the measurements yourself as shown in the above image, and then search the inventory at Goggles4u that looks about the same as yours. If your pair does not have measurements mentioned, use a simple ruler to check its size.
How To Use Ruler For Measurement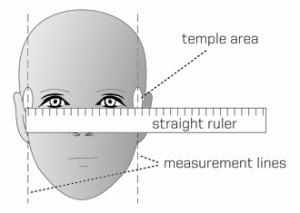 This is quite simple. Just look at the mirror holding a ruler below your eyes (make sure it has millimeter units. Now, calculate the span between both sides of the temples. This will specify you what frame width will fit you accurately.
In most prescription eyeglasses, you will see exact measurements printed on the temples or sometimes behind the nose bridge as shown in the image.
For example, in an eyeglass frames where it reads 57- 20-135, it simply relates to an eye size of 57, bridge size of 20 with its temple length of 135.
A modifiable nose pad is another selection for people with smaller noses or lower bridge. These are some of the most crucial information that we shared with our customers, so that they have a peace of mind next time selecting the best yet right type of online prescription eyeglass at an amazing and discounted pric