Hottest Trend for Women right now; The Cat Eye Glasses
The Cat is Out of The Bag, Check Out The Hottest Trend
For Women Right Now, The Cat Eye Glasses:


The classic style appeal from the late 50s and 60s are back. Yes! The Cat Eye Glasses are coming on every woman's face now. But why Cat Eye Glasses? Well they have a feminine element to it, where the outside edge frame is pointed upwards giving a Cat Eye look.




They say to look at things beautifully but with these frames, we can surely say women looked upon beautifully as it sure adds to the glamour and appeal to their fashion apparel. The shape for these Cat Eye Glasses draw attention to the women's eyes, giving them a feminine touch and making their eyes look more beautiful. These glasses have been worn on regular basis by famous celebrities such as Elizabeth Taylor, Audrey Hepburn, Marilyn Munroe, Katy Perry, Lady Gaga and Rihanna. Contrary to the fashion, these Cat Eye Glasses had been designed specifically for women as they preferred Large Size Frames with a distinctive feature or shape. These style Cat Eye Glasses became so popular in the Hip Society culture that they had to come back in the Modern Era. These Cat Eye Glasses are not just shaped in for eyes, but they also put emphasis on the facial features and enhance the color of the eyes and hair for a woman.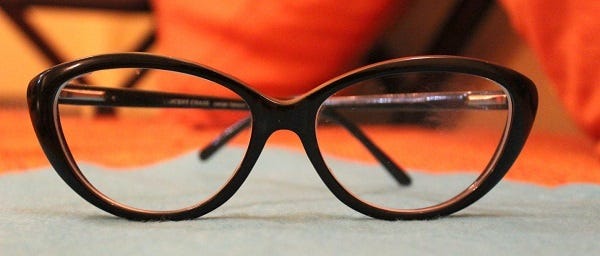 The shape for these glasses sure do appeal and bring out a lot of attention for women in parties and on special occasions and to make these glasses look more unique, they are added with crystal diamonds and symmetrical patterns because we know how women are particular for fashion. Cat Eye Frames have been making its mark on the Fashion Eye Industry and more and more women are adapting to it. Choose your Cat Eye Glasses now and go forth with the confidence you want.