Buying Prescription Sunglasses Online
Sunglasses – The Best Way To Save Your Vision:
Sunglasses are significantly vital to maintaining fitness for your eyes and in addition, you can easily reveal your chic persona as the latest fashion declaration. They can reduce the pressure on the eyes through visible and invisible light. This can also possibly save from harmful effects through ultraviolet light. Either it's a normal sunglass or prescription one, one can wear it all year long that could not just save your vision but at the same time, disclose your character more audaciously in any hangout or gathering.
Where To Buy Easily At Reasonable Prices?
One of the top-ranking online stores, Goggles4U.com, is offering a wide range of men & women eyeglasses as well as prescription and non-prescription sunglasses at the most inexpensive prices online.
No matter if you are thinking of portraying of classy & retro-motivates sunglasses that are round to the most revolutionary cat-eyes fashioned, you can opt from our huge assortment and select for you or your friend. Choose from the renowned designer wears, to look astonishing among the crowd and feel contented!

Selecting The Right Sunglass!
Sunglasses are available in a variety of shades with latest technologies, so to easily deliberate in deciding your savor and luxury. There are some designed to advance your sporting skill, some for fashionable style or simply support you to look superior.
The best way to choose the right frame is to combine fashion and performance that suits one's lifestyle. For people using prescription glasses, they can also add the "Tinted" option at Goggles4U where you can get your frame tinted that makes it a prescription wear as well as sunglass when exposed to sunlight.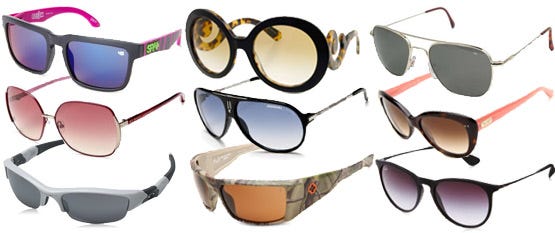 Tint Colors & Intensities:
Prescription Sunglass tinting and intensities are now the options on products available in the market. You have the options to select from yellowish-brown, tawny or gray. We will further explain which color to be selected that could be best for the condition:
Gray is better for a normal day-out in a sunny day. You can also wear this color when indoor or when it's not too bright, for instance, in a cloudy day. This can reduce the light transmission from 100 to 81%.
Comes next is the medium-toned intensity of sunglass that is a light brownish/ light grayish color. This shade is great for low brightness and could be a superb choice for a partly cloudy day. This can reduce the light transmission from 80 to 44%.
Third Color is Dark brown/ Black, which is occasionally outfitted when the sun is quite bright, while driving in bright daylight, to reveal chic personality. Surely, this can decrease the light transmission from 43 to 19%.
Last yet not the least is the Gradient type of color, which could be in any shade just to divulge an attractive character. It can be worn in either party, hangouts with friends, on a sunny day, at college or where ever to look hip-styled!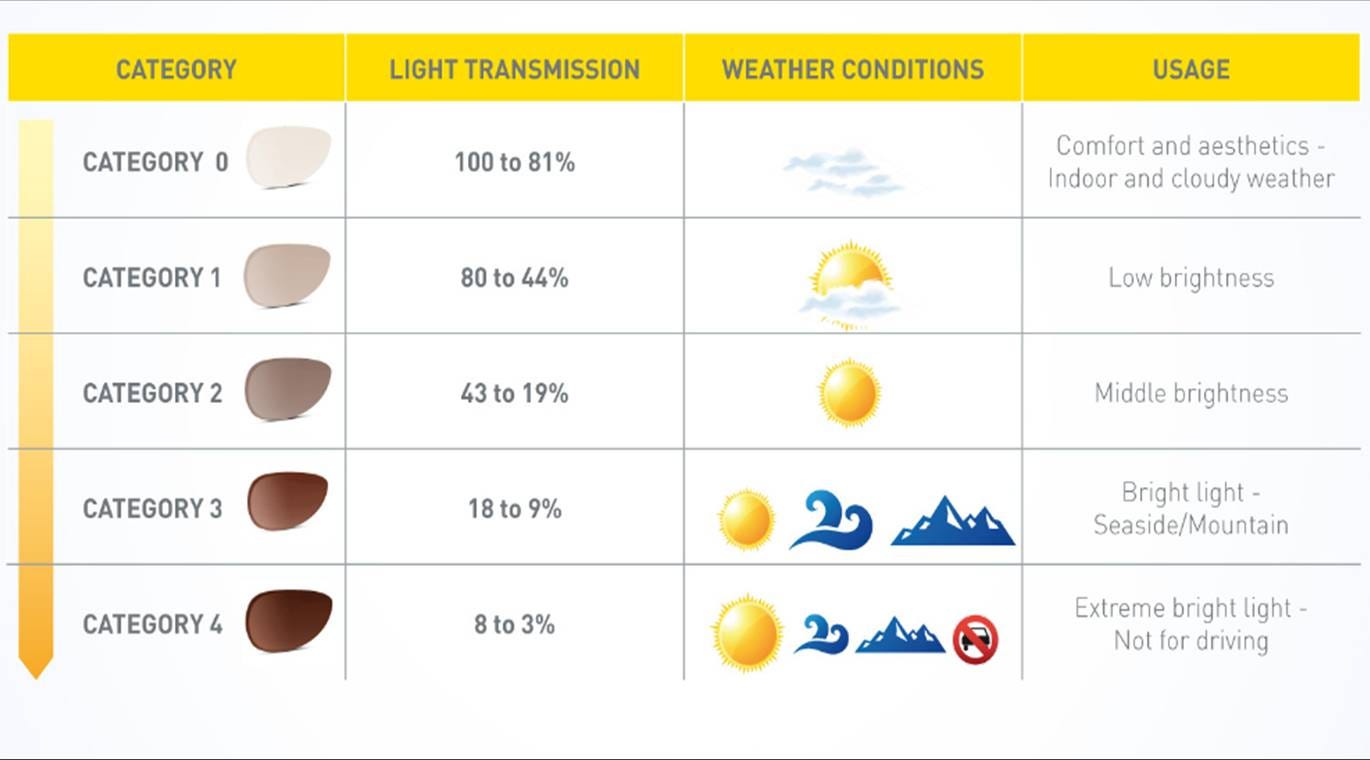 Which Color Lens Should I Select?
From the above details, we understood that the primary purpose of the tint is to decrease high-intensity light, consequently, soothe your vision, and provide comfort in outdoor activities. When eyes get over-exposed to sunlight, the acuity of colors and details change subsequently.
Yet, a gradient shade is perfect in conditions such as celebrating on a terrace, protecting eyes from bright sunlight, or simply speaking, gradient tints offer sophisticated & dashing texture to your sunglasses.
At Goggles4u.com, it is really effortless and hassle-free to buy Sunglasses or Eyeglasses; you can assuredly select the Superlative Frame you desire from a wide variety, easily provide your prescription details, and simply opt for the Tinting Choice.
Rest assured as Goggles4U.com believes in 100% customer satisfaction and is available online 24/7 via live chat, email or you can at 1-888-830-7857. We guarantee that your purchase experience at Goggles4u will be something valuable & appreciable for, as we don't compromise when it comes to Quality & durability!